The Pittsburgh Penguins had limited cap space this offseason, but didn't have too many holes to fill in free agency. So far, they've done what they could.
The Pittsburgh Penguins haven't made a lot of smart decisions financially for the past year or two, and the front office is now stuck with their hands tied in this year's offseason. They entered the free agency period with just under $5 million in cap space and a handful of restricted free agents that were due to re-sign with the team.
Now several weeks into the free agency period, and the Penguins find themselves with just $1.5 million in cap space. They've made some good moves up to this point, but are currently struggling to find a way to bring back the likes of Theodor Blueger, Marcus Pettersson and Zach Aston-Reese — all of whom remain unsigned RFA's.
The Penguins can still find a way to get it done, but they will have to get creative and likely start moving some players elsewhere. With that being said, let's take a look at what Pittsburgh was able to do up to this point, starting from the beginning of free agency.
June 26 – Pittsburgh Penguins re-sign Zach Trotman and Kevin Czuczman
Zach Trotman and Kevin Czuczman have spent a lot of their careers between the AHL and NHL, providing defensive depth when the Pittsburgh Penguins need it. They have been two important players for WBS and have shown to be ready whenever they get called up to the big leagues.
Both contracts are two-year, two-way contracts that hold an annual of $700,000 each. They will likely continue to do most of their damage in the AHL, but will provide much-needed depth in case of injuries or poor performance from others.
Trotman played 13 games for the Penguins last season toward the final stretch, while Czuczman has never made an NHL appearance in a Pittsburgh uniform yet. Re-signing these two will help the Penguins' at the AHL, and give them insurance in the NHL next season.
June 29 – Pittsburgh Penguins trade Phil Kessel and Dane Birks to the Arizona Coyotes
In a move that helped free a little cap space for free agency, which was much needed, the Penguins sent Phil Kessel, Dane Birks and a fourth-round draft pick in 2021 to the Arizona Coyotes. In return, Pittsburgh received forward Alex Galchenyuk and defenseman Pierre-Olivier Joseph.
The Pens end up getting a skilled player in Galchenyuk, still with a bit of upside as he is just 25 years old. Entering his eighth season in the NHL, the former third overall pick was drafted by Montreal in 2012. He spent his first six years there, before playing in Arizona last season. He has 127 goals and 169 assists in 490 games played, including a 30-goal season in 2016.
As for Pierre-Olivier Joseph, he was drafted by Arizona with the 23rd overall pick in 2017. He just finished his fourth season in the Quebec Major Junior Hockey League, where he has displayed his ability to play well-rounded defense, while putting up a good number of points. There's a tremendous amount of upside for this former first round pick.
July 1 – Pittsburgh Penguins sign LW Brandon Tanev to six-year contract
A bit of a surprising move brought the Penguins an established center with some time to grow into a consistent contributor on the ice. Brandon Tanev is an all-in-one wing player with 4 years experience in the NHL, and has been the money move in free agency thus far, despite an average annual of just $3.5 million.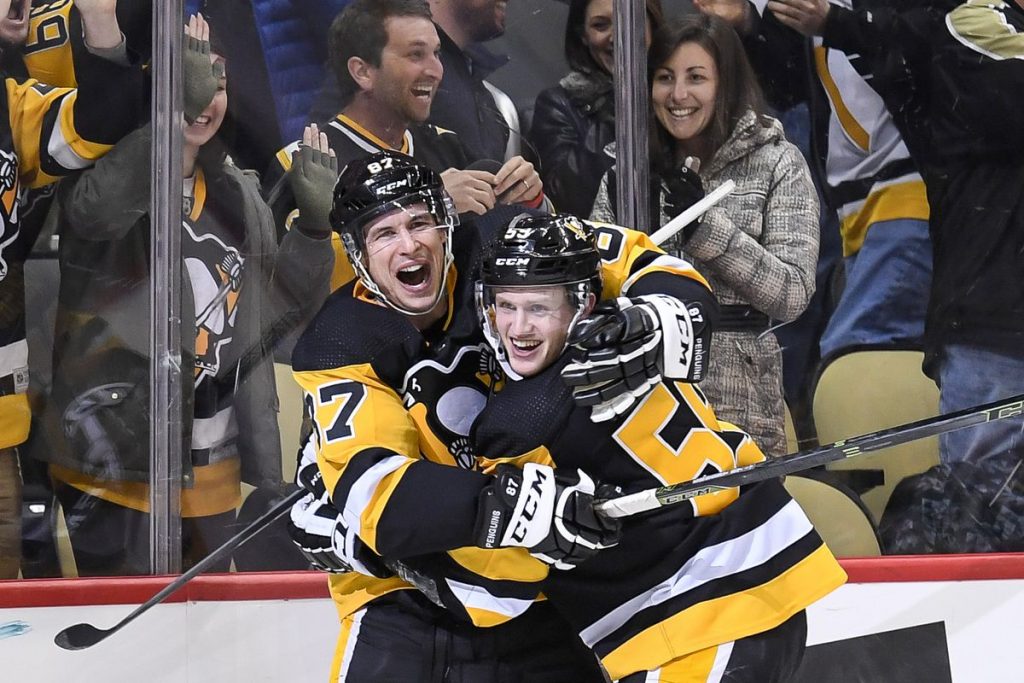 Out of college, Tanev joined the Winnipeg Jets and has established himself as a reliable piece of their penalty kill. He finished last season with the second most minutes of shorthanded time on ice among Jets forwards. In the past two seasons, Tanev has notched five shorthanded goals, one shorthanded assist and two game-winning goals.
Overall, Tanev has tallied 24 goals and 27 assists in 195 games with the Jets. He will now work to become a valued player on the Penguins' roster. His ability to play defense as a winger will give the Penguins a boost in situational hockey.
Oh, and he likes to hit, too.
July 1 – Pittsburgh Penguins sign D David Wasofsky and F Andrew Agozzino
The Pittsburgh Penguins signed two more two-way players to two-year contracts, this time adding defenseman David Wasofsky and forward Andrew Agozzino to the mix. Wasofsky is likely a familiar name, as this will be his third stint with the Pens. Agozzino will enter his first year with the organization.
Wasofsky and Agozzino have spent a majority of their careers in the AHL, providing depth in the NHL when needed. They will likely remain in those roles with the Pens next season. Assistant general manager Bill Guerin stated his opinion of the two players:
"David and Andrew are two guys that are going to provide great depth for our organization. They are both leaders that can help mentor some of our younger players. If there are injuries or trades, you need guys like David and Andrew, who have both NHL and AHL experience, to be able to come in and contribute. We're lucky to get two guys with great experience in this role, and expect both of them to push to make the NHL roster out of training camp."
July 3 – Pittsburgh Penguins re-sign F Joseph Blandisi
Assistant general manager Bill Guerin also placed his stamp of approval on forward Joseph Blandisi when the team brought him back on a one-year, two-way contract. Guerin said that Blandisi has NHL talent and although he has mostly provided depth for the Pens, he believes the forward can eventually become a full-time player.
Blandisi was traded to the team recently in late January. He would play six games with Pittsburgh before being sent down to WBS, where he made a name for himself with 20 points in 27 games. Blandisi has 80 games experience in the NHL with four different clubs, and will likely make a push for more playing time this season.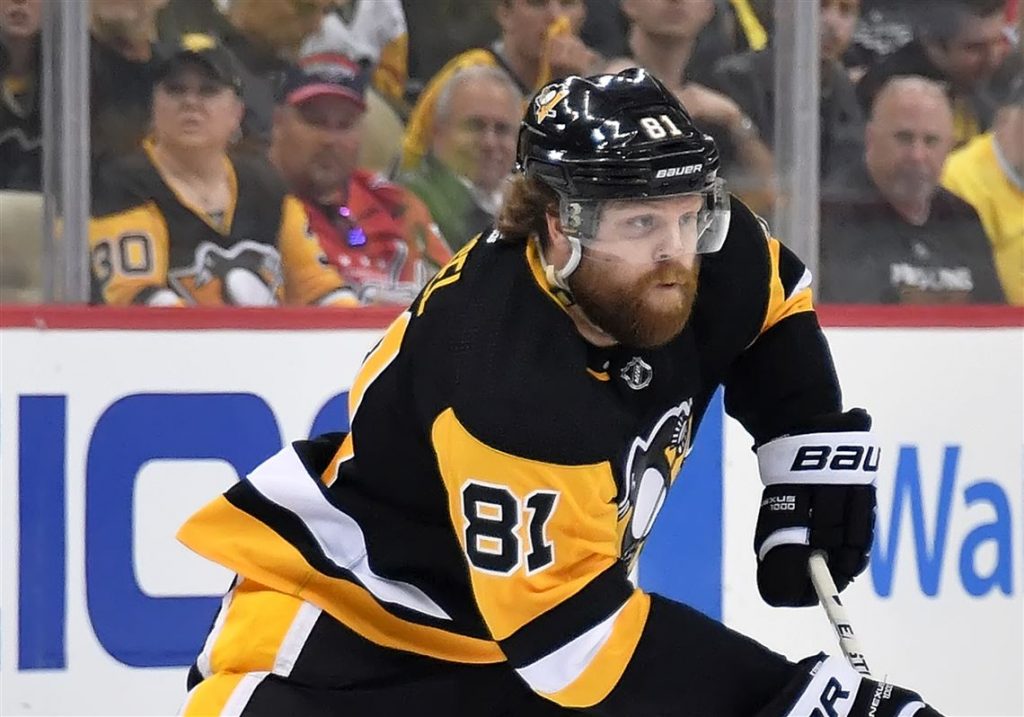 July 5 – Pittsburgh Penguins extend head coach Mike Sullivan's contract 
Mike Sullivan gained immediate success as the Penguins' head coach, winning back-to-back Stanley Cup Championships in his first two seasons. Not only was he the first coach to win back-to-back ships since 1997, but he was just the second to do it in his first two seasons with a team. In addition to that, he was the first American-born coach to do it.
General Manger Jim Rutherford is very pleased with the work Sullivan has done in the past four years with Pittsburgh, making sure the team is prepared each and every season. As a result, the Penguins have been contenders every year under his leadership.
The Penguins inked Sullivan to a four-year contract extension that will keep him in Pittsburgh through the 2023-2024 season. His 9-2 playoff series record is as impressive as anyone in the past four years, and the Penguins think he can continue to lead this team to success.
July 10 – Matt Cullen announces his retirement
Matt Cullen, the oldest active player in the NHL last season, officially announced his retirement from the NHL on July 10th after 21 seasons with 8 different clubs. There was doubt at the end of the season whether he would continue to play or not, but that fate has been signed, sealed and delivered.
July 12 – Pittsburgh Penguins re-sign F Adam Johnson
Yet another one-year, two-way contract for the Penguins, which is good because depth was one thing on their bucketlist this offseason. He has spent two years with the WBS as a point-getter as a young prospect. The Penguins feel good enough about him to give him one more year to show the team something special.
Johnson did get to see some NHL action last season, suiting up for 6 games before being re-assigned to the AHL. He tallied two assists during his time with the Pens.
Depth is something every NHL team values immensely, so continuing to make the most out of every opportunity is something that will be noticed by the coaching staff and front office. Adam Johnson is another one of those guys who will get his opportunity, and it will be on him to be ready and produce.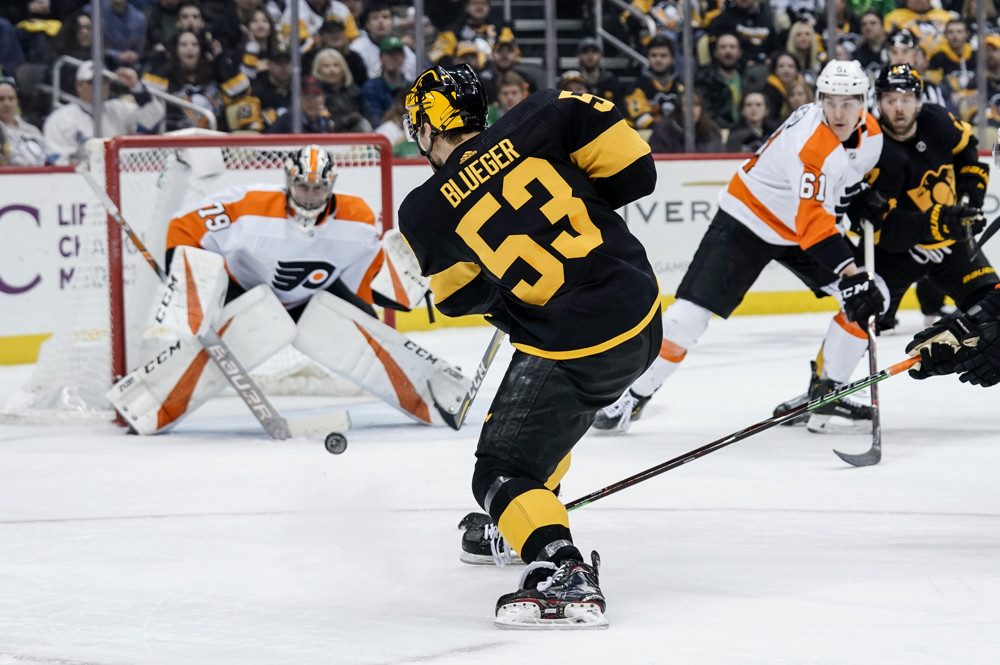 July 16 – Pittsburgh Penguins re-sign F Teddy Blueger
At last, the Pens pulled the trigger on one of their much-needed signings this offseason, Teddy Blueger. The 24-year old forward made his NHL debut last season with Pittsburgh, and eventually scored his first career goal on his first career shot.
Finishing the season with 6 goals and 4 assists in 28 games, Blueger showed the potential to be a full-time starter in the NHL after spending the better of three seasons with WBS. Here's what Assistant General Manager Bill Guerin had to say about bringing back Blueger:
"Teddy is a perfect role model for younger players coming into the league. When you watch a guy with his work ethic, determination and ability to trust the process of going through the proper steps to get to the NHL, you have a great example for younger players. Teddy came to us with great expectations, and he's worked hard to meet each one. He has great hockey sense, he loves to compete and he's a true professional."
So far, the Pittsburgh Penguins have done what they could in free agency. With little to spend, they've focused on bringing in depth players with upside for maximum value. With a roster that's primarily already established, the work by the front office has been as good as it could've been.
If only they can find a way to get Blueger, Pettersson and Aston-Reese back on contract, then I would mark this as a fairly successful offseason. If that's going to happen, I would expect some more trades soon to allocate funds.