The Hines Ward Show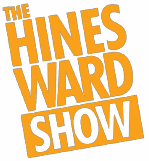 Pittsburgh Sports News
Recent Posts

HELPING HANDS

The Official charity of Hines Ward, Helping Hands U.S. Foundation, a fund of the Pittsburgh Foundation, came from his on perseverance through many trials as a child in a single parent home.

OFFICIAL HINES WARD STORE

Need some cool, signed Hines Ward gear? From footballs, to jerseys, to pictures, to everything in between, give the gift of #86 to your favorite Steelers or Bulldogs fan!